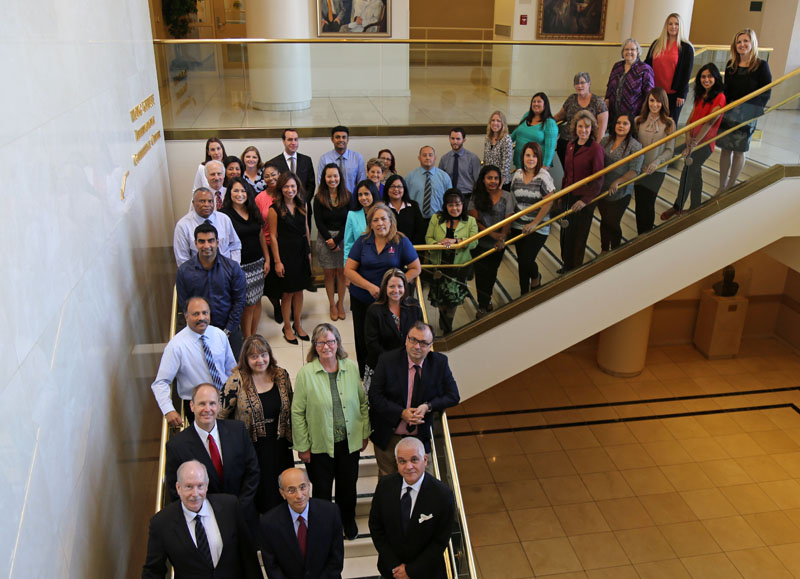 The world-renowned scientists at Loma Linda University are striving to advance the understanding and care of human health in order to fulfill the institution's mission "to make man whole." The links to the right describe the pivotal role that Loma Linda has played in the history of health research and its current contributions to a wide variety of fields. Information about our clinical trials that are currently accepting patients can be found under For Patients & Their Families.
To search for specific services, see our Directory of Research Affairs Services
Office of the Vice President for Research Affairs (VPRA)
Research Training and Education
Inventions and Commercialization of Intellectual Properties
Regulatory Compliance and Research Integrity
See also the Compliance Hotline page
OFFICE OF THE VICE PRESIDENT FOR RESEARCH AFFAIRS
The Vice President for Research Affairs (VPRA) is responsible for promoting and managing research activities and guiding research in all entities and affiliates of Loma Linda University.
VICE PRESIDENT
Michael Samardzija, PhD, JD, msamardzija@llu.edu /x15920
Oversight of Technology Transfer
Coordination of institutional start up companies
Oversight of the institutional start up company incubator, N3eight, LLC.
Oversight of large research projects
Oversight and integration of Research Affairs activities and services
Coordination and planning for institutional research
GRASP research grants
ASSOCIATE VICE PRESIDENT
Michael Kirby, PhD, mkirby@llu.edu /x88117
Review of grant proposals for scientific merit and institutional risk
Research training and education
Executive Assistant to Vice President and Associate Vice President, 909-558-8544
Cindy Perez, cperez@llu.edu /x88544
Directions to sections and specialists
Scheduling meetings for Vice President and/or Associate Vice President
ASSISTANT VICE PRESIDENT
Aleta Savage, MBA, CRA, asavage@llu.edu /44589
Leadership and support of financial and administrative operations
Assists with development and implementation of LLUH research strategic plan
Oversight of Pre and Post Award activities
Oversight of information technology for Research Affairs
Institutional Business Official and liaison to government agencies for sponsored projects, audits, and overhead negotiations
Coordinator, Research Affairs, 909-558-4589
Robin E. Bailey, rbailey@llu.edu /x44589
Scheduling meetings for Assistant Vice President, Research Operations
PRE-AWARD SERVICES (RESEARCH ADMINISTRATION)
Proposal Consultation
Identifying funding sources for proposed research
Assistance in planning and editing grant applications
Grant Pre-Award Management
Manages extramural grant submissions
Proposal development advisor
Obtains institutional approval
Identifies and interprets funding opportunities
Sponsor and institutional regulatory and policy review
Contact: Cindy Dickson, Director of Pre Award, cdickson@llu.edu / x44571
Electronic Research Systems Management
Electronic submission of grant applications
eRA Commons and other sponsor registrations
Implementation and use of LLeRA modules
Maintaining your profile in the investigator database -- user name & password, etc.
Resource for general policy and procedure related questions
Contact Daniel Ramon, Pre Award Specialist, cdickson@llu.edu / x44571
Pre-Award Budget Approval
Assisting investigators with budget development and entry into electronic systems
Reviewing and approving budgets prior to submission
Contact Pre-Award Staff, rbailey@llu.edu / x44589
Research Conflict of Interest
Research conflict of interest disclosures and evaluations
Contact Sandra Figueroa, Administrative Assistant / x85794, researchcoi@llu.edu for COI forms and correspondence, sfigueroa@llu.edu for other communications.
POST AWARD SERVICES
Research Affairs - Post Award
Central fiscal administration responsible for monitoring and managing internally and externally sponsored research awards, research related grants, contracts, and government allocations from the time of the award to close out. Each investigator is assigned a Post Award Specialist.
Draw down of sponsor awards, monitor award expenditure and compliance with institutional and sponsor financial policies.
General Oversight of Post Award Financial Management
Contact:
To find your Post Award Specialist
Contact the Post Award Coordinator, rbailey@llu.edu /x44589
Contracts
Initiation, review and approval of research-related contracts (collaborative, subcontracts, amendments, confidentiality, material transfer, data agreements, professional service agreements, Federally-funded clinical trials, etc.)
Contact Elaine Moya, Director Research Contracts, racontracts@llu.edu / x43944
Contact Ashton Lawrence, Contract Analyst, aslawrence@llu.edu / x87912
Assist faculty with clinical trial preparation
Initiation, review, approval of clinical trial contracts
Contact Amy Casey, Assistant Director of Operations, Clinical Trial Center, acasey@llu.edu / x55830
HUMAN STUDIES
Human Subject Protection Program (including IRB)
IRB Administrator
IRB applications for Administrative (Expedited or Exempt) Review
Determination of Non-Human Study Research
Contact Research Affairs - Research Protections Programs (RPP)] & IRB Administrator,  x43570
Submission of new applications to the Institutional Review Board (IRB) or Institutional Animal Care and Use Committee (IACUC) and screening for fulfillment of requirements
Deadlines for committee submission, status of applications
Scheduling appointments and consultations
Contact:
Susan Fajardo, Reviewer's Help Desk, IRB@llu.edu / x42448
Deborah Rodman, Investigator's Help Desk, dyoderrodman@llu.edu / x44531; IRB@llu.edu , IACUC@llu.edu
 
Consultations for full-board IRB reviews (except the two days after each IRB meeting)
Questions regarding change requests, new full board studies, full board renewals, and the results of full board reviews
Clinical Trial Center (see the CTC website)
Cape Cod-Dover Bldg, 11374 Mountain View, Suite C
909-558-5830 / FAX 909-558-6087
The CTC plans and coordinates clinical trials (contract preparation, IRB submission, budget construction, compliance, and trial registration). It provides advice on trial budgeting and will coordinate negotiations with trial sponsors. It provides guidance on clinical trial billing and insurance coverage determinations.
Contact:
Accreditation of Human Subject Protection Program
Develop policies and procedures for the Human Subject Protection Program
Current practice in human subjects research, recommending and initiating movements
Contact Wesley James, Research Alliance Specialist (Research Administration), wjames@llu.edu / x44018
ANIMAL STUDIES
Institutional Animal Care and Use Committee (IACUC)
Submission of applications to IACUC
Consultations for IACUC reviews (except the two days after each IACUC meeting)
Status of Change Requests or Renewal Requests for animal research
Alternate to the director for general administration
Contact Obed B. Rutebuka, IACUC Administrator [Research Affairs - Research Protections Programs (RPP)], orutebuka@llu.edu or IACUC@llu.edu / x87130
Animal Care Facility
[coming soon]
RESEARCH TRAINING AND EDUCATION
Human Subjects Protections Certification
Curriculum and Course Development
Contact Research Education Coordinator (Research Affairs - Research Integrity),  x87463
INVENTIONS AND COMMERCIALIZATION OF INTELLECTUAL PROPERTIES
Technology transfer (TT) and commercialization activities for intellectual property created by any entity affiliated with Loma Linda University.
Disclosure of new discoveries and inventions
Filing and prosecution of patents
Evaluating intellectual property for commercial potential
Negotiate licensing contracts
Payment of patent expenses and distribution of royalty income
Contact:
Michael Samarzija, PhD, JD, Vice President for Research Administration, msamardzija@llu.edu /x15920
Research Affairs - Technology Transfer,  x87184 
Zoran Zivanovic, Manager, Innovative Business Develoment, / x15089 (zzivanovic@llu.edu)
Tracy Lozano, Administrative Assistant, tlozano@llu.edu / x44831
REGULATORY COMPLIANCE AND RESEARCH INTEGRITY (RI)
Auditing or monitoring clinical trials, investigator-initiated studies and other research activities 
Assist with registering trials with Clinicaltrials.gov, passwords and questions
Assist with export control issues including the shipping of hazardous research materials, disclosing information to international collaborators, investigators, and students; submission of export license applications
Investigation of alleged research misconduct and research complaints
Coordination of research-related education requirements
In conjunction with the Clinical Trial Center, assist with investigator-initiated IND or IDE submissions to FDA and associated reporting requirements
Assist principal investigator and study staff in conducting self assessments
Assist with investigator questions on responsibilities under the NIH Guidelines for recombinant DNA research
Assist in preparing sites for external audits, such as FDA audits
Contact:
RESOLVING A RESEARCH SERVICE PROBLEM
Pre Award Services
Contact Cindy Dickson, Director Pre Award Services, cdickson@llu.edu / x44571
Post Award Services
Contact Stacey Moya, Director Post Award, smoya@llu.edu / x49407
Human Studies
Institutional Review Board (IRB)
Contact Research Affairs - Research Protection Programs) & IRB Administrator, x43570
Clinical Trial Center
Contact Lila Dalton, Director of Operations, Clinical Trial Center (CTC), ldalton@llu.edu / x15002
Invention and Intellectual Property
Contact Zoran Zivanovic, Manager - Innovative Business Development (n3eight) zzivanovic@llu.edu / x87184